Horoscope 2020 – A Look at the Year Ahead
We are pleased to offer you the Yearly Horoscope 2020 Forecasts. The forecasts for Aries, Taurus, Gemini, Cancer, Leo, Virgo, Libra, Scorpio, Sagittarius, Capricorn, Aquarius, and Pisces zodiac signs are available free of cost, and all you have to do is click on the right zodiac sign to know the yearly predictions.
Everybody is interested in knowing what is in store for them during 2020. You will look forward to the joys and sorrows you are likely to face in the various aspects of your life. They may include love, family, career, finance, travel, and health.
Our lives are guided by the good and bad aspects of the various planets. Horoscopes cannot change your future. But they will prepare you for future events and guide you to take the right precautions. By making the right steps, you can create your destiny!
2020 Horoscopes envisage that the year will be exhilarating for all the star signs. The year offers you plenty of new openings to enhance your life. All you have to do is to cling to the right ones and work diligently to make them possible.
On the whole, the year 2020 promises you with all the success and consequent wealth. We present you an insight into 2020 Horoscope Predictions for all the zodiac signs right away at no cost!
Aries Horoscope 2020 Yearly Predictions
Aries, get ready for a highly promising 2020! All you need to do is to be more enterprising and make things happen. On the career front, be prepared for new openings and inevitable changes at your workplace. Love and relationships will be quite harmonious.
Overall, life will be steady and stable in all areas. It is vital to retain your poise in whatever you attempt. There is no harm in being highly determined to accomplish your objectives. However, your efforts should be tempered with realism. Just click to Read Full 2020 Aries Horoscope.

Taurus Horoscope 2020 Yearly Predictions
The 2020 zodiac forecast for Taurus foretells a peaceful and balanced period for the sign. You will have to take important decisions regarding your relationships and career. So, think wisely and make a proper decision as this will have an impact on your life in the long run.
Bulls have to be practical and should avoid hasty decisions in matters of relationships. All fiscal savings should be based on expert advice. The year 2020 is the right time to bring stability in your life. Just click to Read Full 2020 Taurus Horoscope.
Gemini Horoscope 2020 Yearly Predictions
The year 2020 is quite promising for the Gemini zodiac sign to progress in all the areas of your life. Marital life will be full of love and passion. Professional life requires plenty of hard work, while finances are healthy.
Gemini people should take bold steps to revitalize their lives in all areas. You have the opportunity to regulate the tempo of your life. You can either speed it up or slow it down, depending on your feeling. Just click to Read Full 2020 Gemini Horoscope.
Cancer Horoscope 2020 Yearly Predictions
The Cancer zodiac sign can anticipate a growing period for profession and love relationships. Crabs can either grab the chances to improve their lives or let them go.
Life can be made more enjoyable in the year 2020 by attending to more delicate details of problems. Professional growth can be troublesome. On the whole, Cancer people should be ready to face changes and challenges. Just click to Read Full 2020 Cancer Horoscope.
Leo Horoscope 2020 Yearly Predictions
Leo, people can look forward to the highly adorable Year 2020 in spite of the various conflicts popping up. The Lions are ready to face the challenges with their inherent vitality. Consequently, you will achieve your goals by using your experience and wisdom.
The career horoscope for Leo indicates new avenues for businessmen and professionals. You are inclined to try out novel ideas in maintaining health and relationships. Just click to Read Full 2020 Leo Horoscope.
Virgo Horoscope 2020 Yearly Predictions
The Virgo astrological forecasts point to contrarian changes like Virgo during the year 2020. The fundamental nature of practicality will be replaced by brashness, and hence decisions will lead to strange results. Professional life will be full of turmoil, while love relationships will go for a toss.
The 2020 Virgo Horoscope advises you to be rational before taking any major decisions. Though planetary aspects are trying to make you a rash, try to be patient and pragmatic. Just click to Read Full 2020 Virgo Horoscope.
Libra 2020 Horoscope Yearly Forecasts
Horoscope 2020 for Libra star sign predicts a highly comfortable year. You will have ample time to indulge in pleasurable activities. The year gives you enough leisure time to spend quality time with family and friends.
Single Libra individuals will have many opportunities to get into relationships. They are seeking more fun in their partnerships, and the commitment part is missing. Professional life and marital life are less demanding. Hence, Librans can use this year to prepare themselves for facing more excruciating times of the future. Just click to Read Full 2020 Libra Horoscope.
Scorpio 2020 Horoscope Yearly Forecasts
There is a sense of autonomy and independence for the Scorpio Sun sign during the year 2020. You are free from all restraints and constraints in life. You can use the energy you save in humanitarian activities.
As you have the freedom to choose what you want to do in life, you can use this freedom to enhance your professional expertise. Do not waste your free time in frivolous activities. Instead, use it for your benefit or the benefit of society. Just click to Read Full 2020 Scorpio Horoscope.
Sagittarius 2020 Horoscope Yearly Forecasts
Sagittarius astrological forecasts for the year 2020 demand that you have a hard look at your life and come out with important decisions to enhance your experience. Also, you have to cleanse your life of all the useless things and come out with fresh ideas to make life worthwhile. Success will follow surely but slowly.
The year 2020 promises significant financial returns from your investments. New relationships are in the offing but strive to keep the present ones flourishing. Just click to Read Full 2020 Sagittarius Horoscope.
Capricorn 2020 Horoscope Yearly Forecasts
Predictions for Capricorn star sign for the year 2020 suggest spirituality will play a significant role during the year. You are fed up with the tensions and turmoil in life, and you are looking for a peaceful interlude. Hence, you will be drawn towards relaxation techniques such as meditation.
You can improve your mental well-being by going on a religious holiday to a serene location. Once you rejuvenate your psychological disposition, you are ready to face the new challenges. Success in life is ensured once you are emotionally fit. Just click to Read Full 2020 Capricorn Horoscope.
Aquarius 2020 Horoscope Yearly Forecasts
Aquarius! You will be overflowing with ingenuity and inventiveness during the year 2020 as per the annual Horoscope. You will get opportunities to put your abilities to use and gain public recognition of your talent. Hence, use your overflowing energies judiciously.
It is time to play your role as a perfect lover to your spouse and an ideal parent for your children. Use your creative talent at the workplace to garner honors and rewards in your profession. Just click to Read Full 2020 Aquarius Horoscope.
Pisces 2020 Horoscope Yearly Forecasts
Astrological predictions for Pisces sign for 2020 foretell that the year promises a lot of excitement and stimulation. You are not averse to veer away from the beaten track and try out fresh and novel ideas. At the same time, rein in your impetuosity to succeed in life.
Professionals and businessmen will succeed in their careers. Life will be trouble-free and rewarding. If you are married, expect an addition to your family. Just click to Read Full 2020 Pisces Horoscope.
Infographic

: Horoscope 2020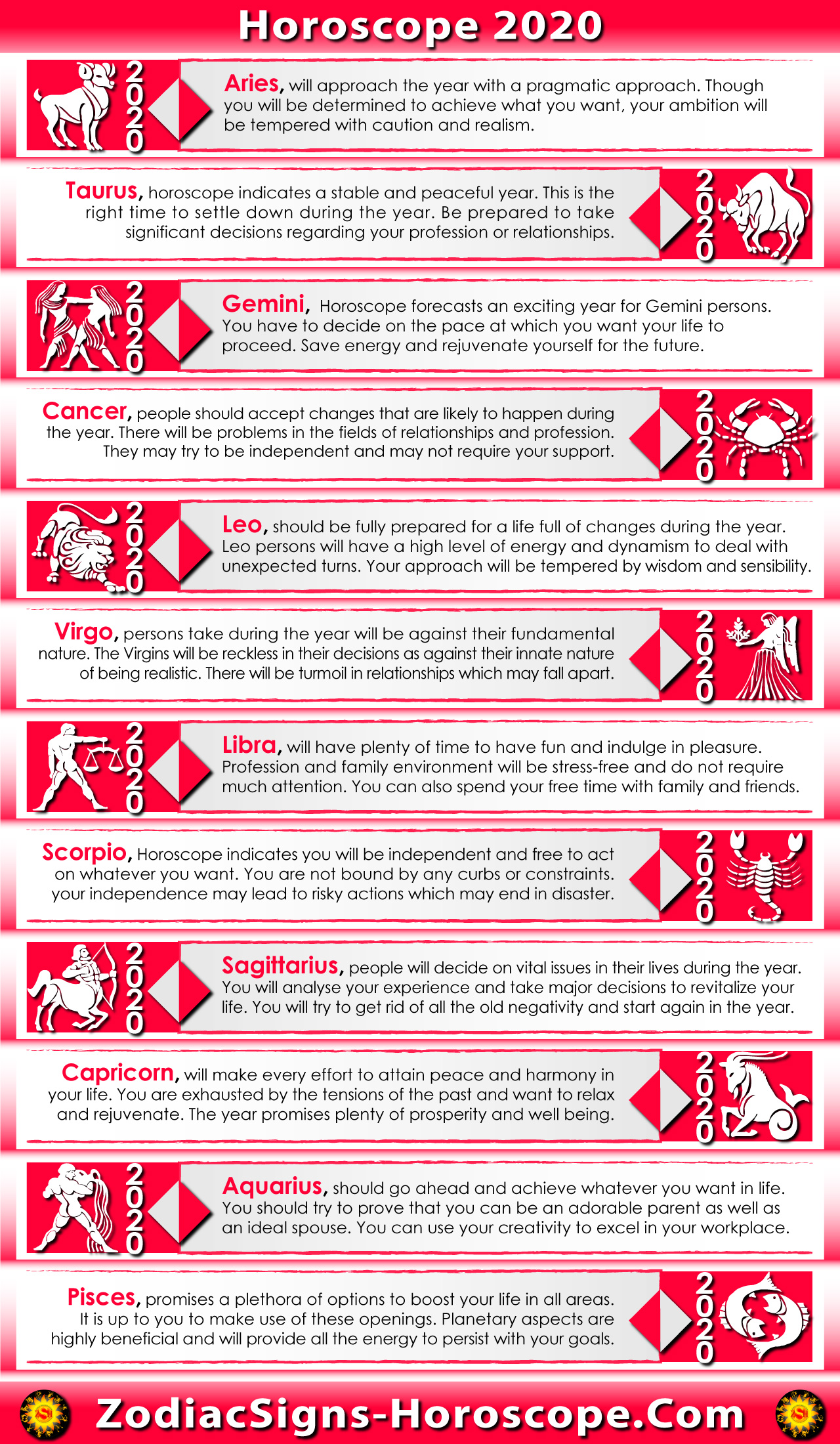 READ ALSO: Learn about 2022 Horoscopes