Scorpio 2020 Horoscope – A Look at the Year Ahead
The 2020 Scorpio Horoscope for the zodiac sign indicates you will be independent and free to act on whatever you want. You are not bound by any curbs or constraints. Maybe, your independence may lead to risky actions that may end in disaster.
Read Also: Scorpio Horoscope 2021 Yearly Predictions
However, these things will stop as the year progresses, and you will become more responsible. There will be more rationality and a sense of purpose in what you do. You will be able to accomplish your objectives for your satisfaction.
The year also gives you an opportunity to pursue new techniques or indulge in new hobbies. You can put your excess energy for the uplift of the downtrodden. While you have the option to do whatever you want, you should use your strengths prudently.
Scorpio Love Horoscope 2020
Love predictions for Scorpio sun sign for the year 2020 foretell a chaotic period in the matter of relationships. Single persons will be unable to decide on getting into partnerships. They have to choose between profession and love relationships. Planetary aspects favor new love partnerships. However, think before you leap. Prospects of love brighten as the year progresses.
Scorpions in committed relationships will think about taking their partnerships to the next level after due deliberation. Maintaining a harmonious relationship with your partner is essential. Consequently, you should treat your partner with more affection and politeness if you want the relationship to flourish.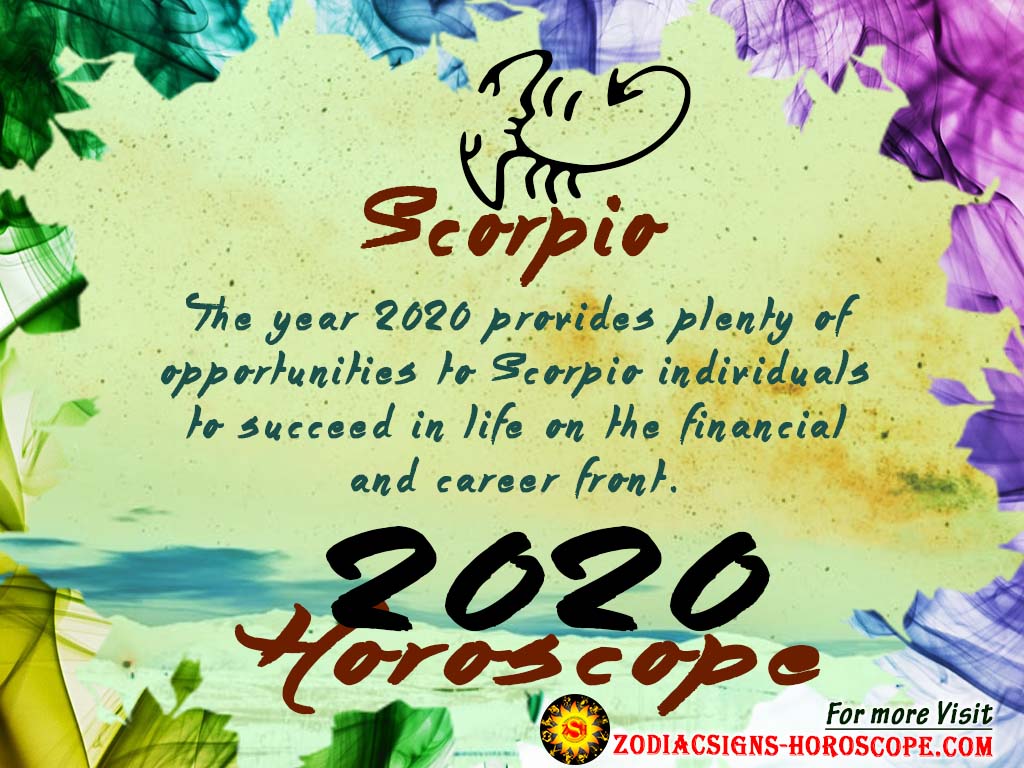 Scorpio Family Horoscope 2020
The family horoscope for Scorpio zodiac foretells an encouraging 2020 for the whole family. Positive aspects of Jupiter suggest marriages and the arrival of children. However, the relationship with elders will be tentative, and there may be health issues. Children will do well in their studies, and if they intend to pursue higher education, prospects are very bright.
The first six months of the year will be problematic for the family environment. Also, you will be forced to make some meaningful assessments and actions about relations and the house. These may lead to turmoil in the home atmosphere, and hence, you may have to resort to conciliatory measures. Therefore, it will be worthwhile to think deeply over the solutions and take corrective actions.
However, the situation will change radically during the second half of 2020. The family environment will be harmonious, and peace will prevail. Members will appreciate and support your actions. You will also reciprocate their feelings and love, and there will be bliss in the home environment. As a result, you may undertake leisure travel with family members to an idyllic place. This will help to heal the wounded feelings and to build permanent links within the family.
Scorpio Career Horoscope 2020
Forecasts for Scorpio star sign regarding business and profession envisage the reasonably good year 2020. Combined favorable alignments of Jupiter and Saturn will help you to succeed in your business or profession. Also, the second quarter of the year is auspicious for businessmen starting new ventures.
The planets will boost your confidence levels, and hence you will be highly successful. People dealing in real estate will taste unprecedented success. You can revive dormant projects, and you can indulge in speculative projects with a certain amount of study and care.
Professionals will make considerable progress in their careers during the first half of 2020. If they are looking for change or relocation, they will achieve their objectives. Also, the second half of the year is conducive for promotions and an increase in emoluments in their present jobs. The year is favorable for improving your skills with advanced education and training.
Scorpio Finance Horoscope 2020
Finance Horoscope for Scorpios for the year 2020 predicts enough inflows to cover your spending and expenses. Consequently, it would be advisable for you to live within your budget and avoid indulging in buying luxurious items.
You should make efforts to recover old loans that can be used to cover your outstanding loans. Aspects of Jupiter are positive and will help you to recover your money quickly. The planet also assures a continuous inflow of capital.
For Scorpio individuals who want to improve their financial expertise, the Year 2020 offers the right platform. You will learn methods to improve your finances and to balance your income with your expenses. Overall, the year will be a good teacher, and at the end of it, you will be wiser to no small degree.
Scorpio 2020 Travel Horoscope
Travel Forecast For Scorpio persons for 2020 suggests plenty of travel. During the second quarter of the year, businessmen will travel to improving their sales. Planet Saturn will induce foreign travel. While trips will be of shorter duration during the first quarter, the rest of the year indicates longer journeys. Furthermore, the year is also ideal for travel with family members to scenic places.
Scorpio 2020 Health Horoscope
Health prospects for Scorpio sun sign look great, provided you make conscious efforts to maintain you are well-being. Planets will help you to manage your vitality. However, it is essential to use your energy for the right purposes.
You can maintain your health by focusing on the right exercises and a healthy diet. Exercises will improve your endurance power. Also, emotional health is equally important. This can be enhanced by practicing the right relaxation techniques and also reducing stress and strain.
2020 Astrology Forecasts For Scorpio Birthdays
The year 2020 provides plenty of opportunities to Scorpio individuals to succeed in life on the financial and career front. Hence, they should grab the opportunities and try to achieve their targets with proper planning and diligence.
READ ALSO: Horoscope 2021 Yearly Predictions
ALSO READ: Horoscope 2020 Yearly Predictions