Capricorn 2020 Horoscope – A Look at the Year Ahead
The Capricorn Horoscope 2020 for the zodiac predicts that you will make every effort to attain peace and harmony in your life. You are exhausted by the tensions of the past and want to relax and rejuvenate. Hence, you will turn your attention to spirituality and indulge in relaxation procedures such as meditation and yoga.
Read Also: Capricorn Horoscope 2021 Yearly Predictions
A spiritual holiday at a peaceful and remote place will enhance your mental quotient. As a result, you will work more efficiently and achieve your goals successfully during the year 2020.
Due to the positive aspects of Jupiter and other planets, your progress during 2020 will be impressive and continuous. Also, you will be in a position to face and resolve new problems with creativity and courage. With your independent spirit, you will guide your future life on your terms and progress in life as per your vision.
Capricorn Love Horoscope 2020
Love Horoscope for Capricorn sun sign forecasts that love life will be fabulous due to planet Venus. There will be a newly found freshness and expressiveness in your attitude towards your spouse. You can expect a serene and tranquil atmosphere on the home front with your partner. This is the right time to convey your inner feelings of affection to your partner.
Marital life will not be affected by the vagaries in other areas of your occupation. However, you should be careful about the negative influence of your family members.
Single persons will have every opportunity to form new relationships, and there will be plenty of romance. People in committed relationships will be able to feel real love in their partners. Consequently, they are likely to get married due to the beneficial aspects of Jupiter and Saturn.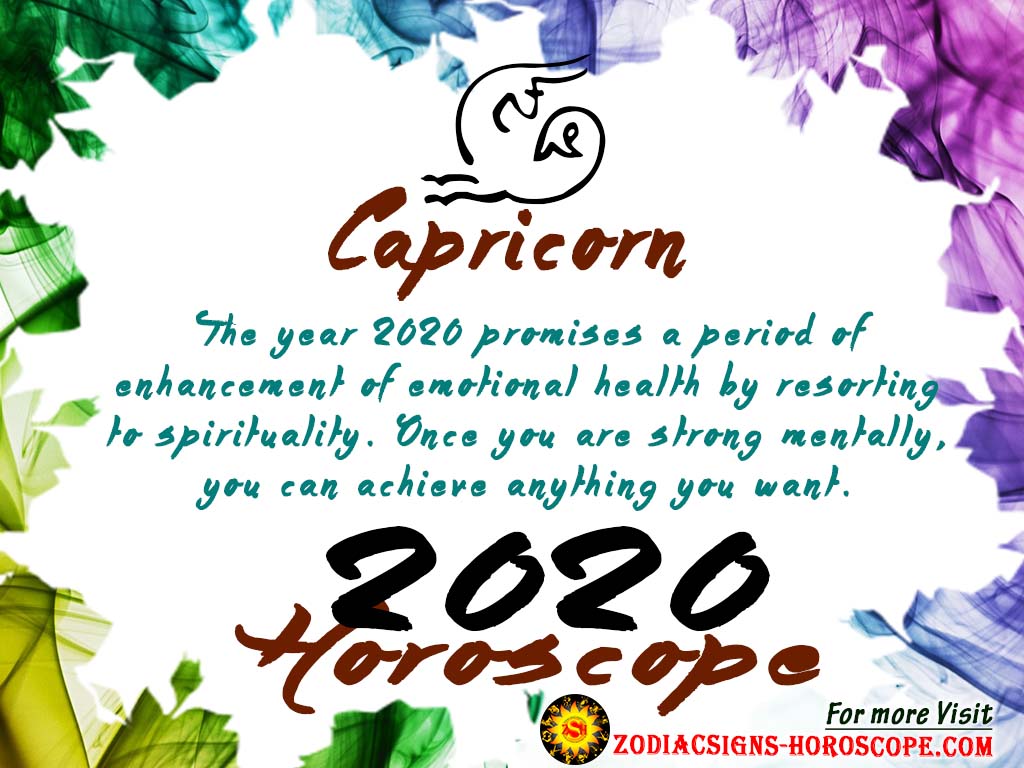 Capricorn Family Horoscope 2020
Forecasts for Family for Capricorn star sign for the year 2020 indicate mixed signals. At the beginning of the year, your business or career requirements will keep you away from the family. Even when you are out of sight, it is essential to maintain contact with your family always. Also, you should be available to them in times of emergency at short notice. Family comes first, even when your career interests are compelling.
Another aspect that may be a source of bother will be the financial outgo towards family expenses. You have to be realistic and try to minimize the costs to the extent possible.
Overall, family life will be enjoyed during the year 2020, and your relationship with members will be cordial. You should take the right steps to maintain peace at home by remaining affable and affectionate with all the members. Children will find the middle of the year favorable for their academic progress.
Capricorn Career Horoscope 2020
Career prospects for Capricorn persons are not promising during the first few months of the year 2020. Professionals will have to put in more effort in their jobs while businessmen should be content in running their present ventures profitably.
However, Jupiter and Saturn will be beneficial for businessmen after the first quarter of the year. Professionals should stick to their existing jobs, and business people should not venture into speculative investments.
The work environment will be harsh for professionals. Hence, they have to be diligent and complete their targets creatively. If you want to improve your skills through advanced education or training, 2020 offers you an excellent opportunity. All this hard work and training will not go waste, and therefore, you can expect promotions and increments by the end of the year.
Capricorn Finance Horoscope 2020
Finance Predictions for Capricorn individuals foretell an increase in the flow of money during the year 2020. Businessmen are on the lookout for new ways of improving their financial inflows and also make handsome profits in their present projects. Also, the time is favorable for recovering old loans. There may be unnecessary expenses towards travel and health contingencies.
On the other hand, you may get into legal problems with your customers or partners. You have to deal with them with a lot of common sense. The inflow of money is steady and continuous during 2020. This leaves quite a large amount of money in your hands after expenses. If you are investing money, you should do so after due deliberation. Above all, financial intelligence is needed in your commercial dealings this year.
Capricorn 2020 Travel Horoscope
Travel predictions for Capricorn persons suggest plenty of travel during 2020. In addition to business and professional journeys, leisure travel with the family to tourist places is indicated. Foreign travel is also a possibility. Professionals can expect a transfer in their jobs.
Capricorn 2020 Health Horoscope
The health forecast for Capricorn for the year 2020 suggests plenty of vitality during the year. Your emotional well-being also will be fantastic. You will be able to maintain high levels of energy due to regular exercise and a healthy diet.
Capricorn individuals will face health problems during the first quarter of the year due to the unfavorable aspects of Saturn. Jupiter will ensure good health after the first quarter. There will be a sense of happiness and fulfillment due to planetary influences. You will also exercise your self-discipline to no small extent to regulate energy levels. By avoiding unnecessary stress and strain, you will be able to maintain your health reasonably well.
The second half of the year promises to be a healthy period, provided you follow a good fitness regime.
2020 Astrology Forecasts For Capricorn Birthdays
The year 2020 promises a period of enhancement of emotional health by resorting to spirituality. Once you are strong mentally, you can achieve anything you want. The year promises plenty of prosperity and well being. You are well prepared to reap the benefits.
READ ALSO: Horoscope 2021 Yearly Predictions
ALSO READ: Horoscope 2020 Yearly Predictions