2020 Libra Horoscope – A Look at the Year Ahead
Libra Horoscope 2020 is predicting a trouble-free year for Libra persons. You will have plenty of time to have fun and indulge in pleasure. The profession and family environment will be stress-free and do not require much attention. Hence, you should use the precious time to improve your physical fitness and emotional well-being. These will come in handy for facing any future problems. You can also spend your free time with family and friends.
Read Also: Libra Horoscope 2021 Yearly Predictions
Single persons will enjoy moving from relationship to relationship, and commitment towards a steady relationship will be missing.
Librans! You have toiled hard during the previous years. This is the time to enjoy and revitalize. If you have any targets to accomplish, the year is highly encouraging, and you will be successful without any hindrance.
Libra 2020 Love Horoscope
Predictions for love for Libra sun sign forecast positive changes for the year. Planets Jupiter and Saturn are favorable. Therefore, existing partnerships will become more enjoyable and refreshing. If they want to connect more, even marriage is a possibility. Single persons tend to flirt more and will have more chances of getting fresh partners. Also, you may end up hooking a person of your choice and settle for a permanent relationship.
Married couples will have a harmonious and peaceful love life. The year gives you a chance to remove all the wrinkles in the relationship. Both of you have a better understanding of one another and look at the positive side of marriage. There will be more love than passion which makes the union flourish. All problems can be solved by dialogue and keeping prospects in mind. Consequently, marital life becomes more pleasant and enduring during the year 2020.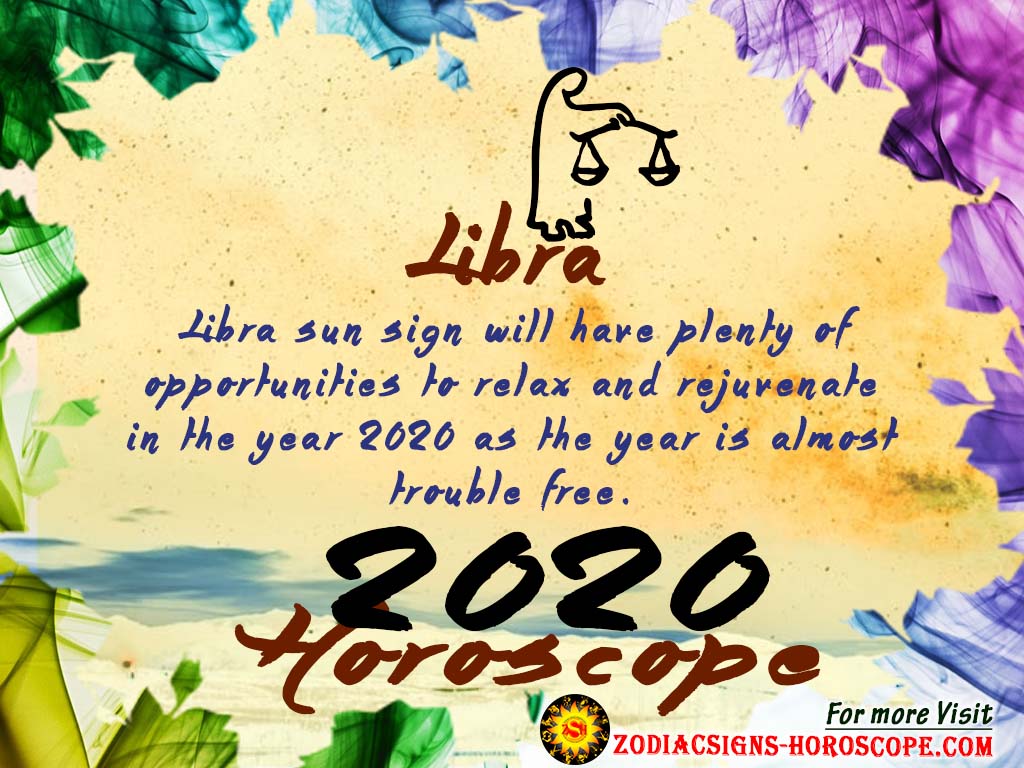 Libra Family Horoscope 2020
The 2020 Family horoscope for Libra individuals will be a mixed bag. The second quarter of the year will see peace prevailing in the family atmosphere due to the positive aspects of Jupiter and Saturn. You may have disagreements with seniors in the family.
The family environment will be vitiated with monetary problems and legal challenges. You should avoid taking reckless measures and think with a calm mind before making any serious steps. Also, take family members into confidence before you take any serious steps. Maintaining peace at all costs on the home front is essential. You may have to make compromises if necessary. Otherwise, these problems may have severe consequences on your professional life.
For Children, this year will have a reasonably good year. Proper application and hard work are necessary if they have to succeed. Planetary aspects may impact the health of children. If you have children of marriageable age, there may be good news on this front.
Libra 2020 Career Horoscope
Libra professionals will have a favorable first quarter. However, aspects of Saturn will create some mental challenges during this period. The second quarter of the year will have positive influences of Jupiter and Saturn for Libra people. As a result, professionals are assured of promotion to senior levels.
If you are looking for a change over of job or transfer to a new place, the third quarter of the year is promising. The year 2020 will also be favorable for people in the educational field. It is imperative to maintain a harmonious relationship with colleagues and seniors at the office. Also, professionals will have to put their best foot forward in their jobs.
Businessmen should not venture into huge projects during the year. However, you should consult experts in the field and seek their opinion before you commence a new project.
Libra Finance Horoscope 2020
Libra Finance forecasts for the year 2020 indicate a copious inflow of money during the first quarter of the year. The alignment of Planet Jupiter is beneficial for Libra people. Therefore, you will have surplus money which can be used for clearing old debts.
The second quarter of the year will be auspicious for acquiring real estate and luxurious items. This is due to the positive influences of Saturn and Jupiter. At the end of the year, more good fortune is expected. As a result, more money flows which can be used for long term investment.
While you are making money through various means, your expenses also will soar. Therefore, keep a strict watch on your spending and try to save as much money as possible. You should make a workable financial plan to monitor your income and expenditure.
Libra Travel Horoscope 2020
Travel Predictions for Libra star sign for 2020 indicate the possibility of foreign travel after the second quarter. Even otherwise Librans will get chances to go round throughout the year. Professionals may be relocated due to official work. Health may cause some concern during these trips.
Libra Health Horoscope 2020
Planetary aspects are not very encouraging for the health of Libra individuals during the year 2020. Though there will not be any significant breakdown in physical health, minor ailments will bother you. Hence, you should prevent the onset of diseases by resorting to the right fitness routines and a healthy diet. You can try alternative treatments like naturopathy to take care of your well being. However, the last quarter of the year will show marked improvements in health.
Emotional health will not be disturbed as you will not have any pressure due to financial and professional reasons.
2020 Astrology Forecasts For Libra Birthdays
Libra sun sign will have plenty of opportunities to relax and rejuvenate in the year 2020 as the year is almost trouble-free. Consequently, you can use this opportunity to make your plans and forge ahead in life. You should not waste your time only fun and frolic. A little seriousness will not do any harm.
READ ALSO: Horoscope 2021 Yearly Predictions
ALSO READ: Horoscope 2020 Yearly Predictions