Leo 2020 Horoscope – A Look at the Year Ahead
The Leo Horoscope 2020 predicts that the Leo sun sign should be fully prepared for a life full of changes during the year. However, Leo persons will have a high level of energy and dynamism to deal with unexpected turns. Your approach will be tempered by wisdom and sensibility.
Read Also: Leo Horoscope 2021 Yearly Predictions
Furthermore, Leo will be ready to accept a new job or start a new venture. There will be changes in the area of relationships and well-being. You will try to adapt to these changes and also introduce innovation and modernity in your ventures.
In contrast, along with the practical and realistic environment, your feelings will also play a significant role in your life during 2020.
Leo 2020 Love Horoscope
The love forecast for Leo zodiac indicates a number of changes in the area of love during 2020. Unexpected alterations in relationships will take you by surprise, and consequently, you should be able to withstand and handle them effectively. However, these changes come with improvements in the status of relationships with your spouse.
While Leos will develop a better understanding with their partners, there is also room for more love and sensuality during the second half of 2020. If you put behind your interests, your spouse will be more accommodating and helpful in fulfilling your needs. You have to be patient and diplomatic in handling the crucial changes in your love life.
Single persons will have excellent chances of making the right partners of their liking. Committed relationships will thrive further.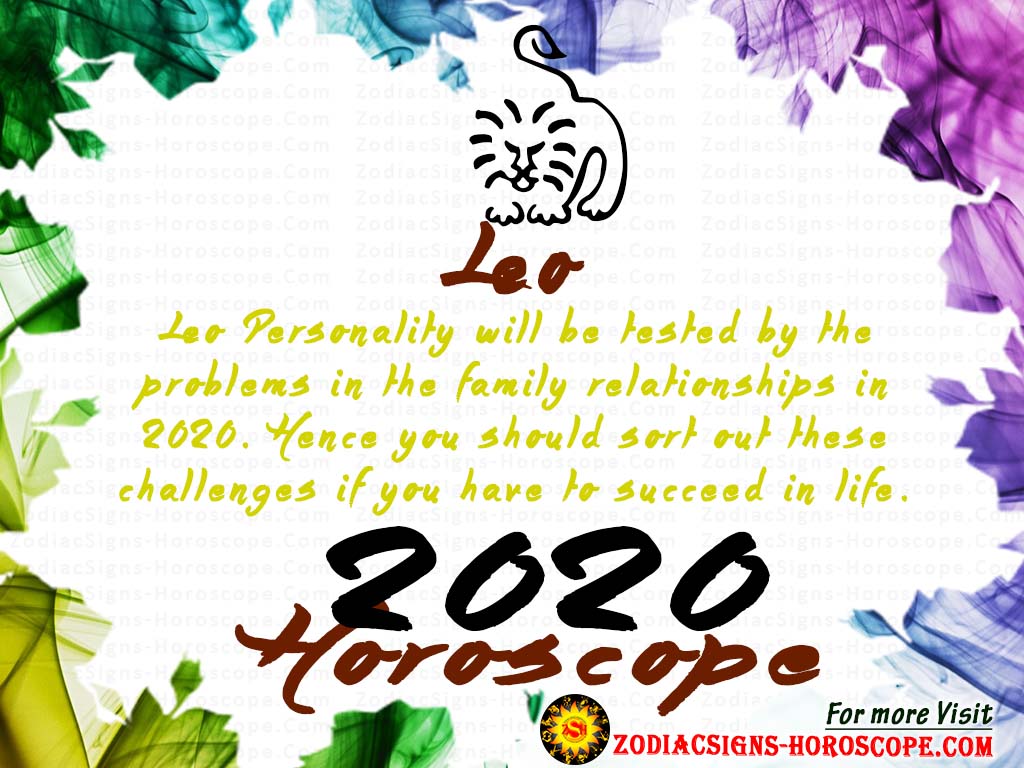 Leo 2020 Family Horoscope
Astrological predictions for the Leo family for 2020 foretell mixed fortunes during the year. Planetary aspects are not beneficial, and you should be prepared for plenty of turbulence. The second half of the year is not all that hopeful for the family environment. Also, there is a possibility of parting ways with family members in the extreme case.
Sanity can be restored, and the family can stay together provided you take a few corrective steps. First of all, Leos have to be patient and take sufficient time to understand the root cause of the problems. You have to discuss the issue with family members and take them into confidence. As a result, the chances of a solution become brighter.
Jupiter is positive for children during the year, and they will succeed in their respective fields. Children of marriageable age will get married, and married couples will be blessed with children.
Leo Career Horoscope 2020
Persons under the Leo star sign can expect to do exceptionally well in their professions and business areas. Planet Saturn promises career progress for professionals with promotions and with a rise in their emoluments. If they are looking for relocation, the chances are bright. However, it is crucial to maintaining cordial relations with their colleagues and seniors in the workplace.
Businessmen can look forward to starting new projects with the help of experts. They will establish and progress in their current ventures, and as a result, can expect substantial financial gains.
As family problems will keep Leo persons occupied, they should separate business and family issues. It pays to focus on your career and business, while the turmoil in the family is brewing.
Leo Finance Horoscope 2020
Finance forecasts for Leo individuals suggest that year 2020 will be highly beneficial due to the favorable alignments of the planets. Money flow will be continuous, and previous investments give good returns. There will be various avenues of income and gains.
While money can be made by sheer hard work and dedication, some people get money through only destiny. Maybe, you will get money from wealthy parents or relatives as a legacy.
In contrast, the expenses also rise proportionately, and you should make plans to save money within your budget.
Leo Travel Horoscope 2020
Travel forecasts for Leo persons for the year 2020 suggest foreign travels for business, and they will be profitable. Also, there may be journeys for religious purposes due to the influence of Jupiter and Saturn.
Leo Health Horoscope 2020
The health of Leo will be fabulous during the first quarter of 2020 due to the favorable aspects of planet Jupiter. Emotional health also will be excellent. Right exercise and proper food will be mainly instrumental for your well being.
However, the second quarter is not encouraging for health. You can expect improvements in health during the second half of the year. It is important to take sufficient rest and follow a strict fitness regime to stay fit. Emotional health will be equally important as career-related stress cannot be avoided altogether.
2020 Astrology Forecasts For Leo Birthdays
Leo Personality will be tested by the problems in the family relationships in 2020. Hence you should sort out these challenges if you have to succeed in life. Finance and career prospects are bright. However, determination and hard work will be the key to success. Do not neglect your health at the same time.
READ ALSO: Horoscope 2021 Yearly Predictions
ALSO READ: Horoscope 2020 Yearly Predictions