Sagittarius 2020 Horoscope – A Look at the Year Ahead
Sagittarius Horoscope 2020 foretells that Sagittarius people will decide on vital issues in their lives during the year. You will analyze your experience and take major decisions to revitalize your life. As a result, you will try to get rid of all the old negativity and start again in the year.
Read Also: Sagittarius Horoscope 2021 Yearly Predictions
Financially, your prospects are bright. There will be plenty of socializing, and you will have chances of meeting a lot of people of consequence. Meanwhile, past relationships will continue to thrive. Success in life is a slow process, and you must have the patience to welcome it.
Sagittarius professionals can look forward to changes in their job profile or may shift to a new location. You will indulge in religious and humanitarian activities. All dormant projects will come to life, and you will taste success in innovative assignments.
Sagittarius Love Horoscope 2020
Sagittarius Love predictions forecast a promising period for Single persons in the year 2020. They will be able to make new love partnerships and the last few months of the year promise plenty of romance. As a result, you may end up locating a suitable match for your marriage. If you are in a committed partnership, you can expect a radical transformation in your attitude.
Planetary influences indicate significant changes in your married life. While there will be plenty of love and romance, you will try to dominate the union. However, you will make efforts to understand your spouse and respond to her love and affection positively.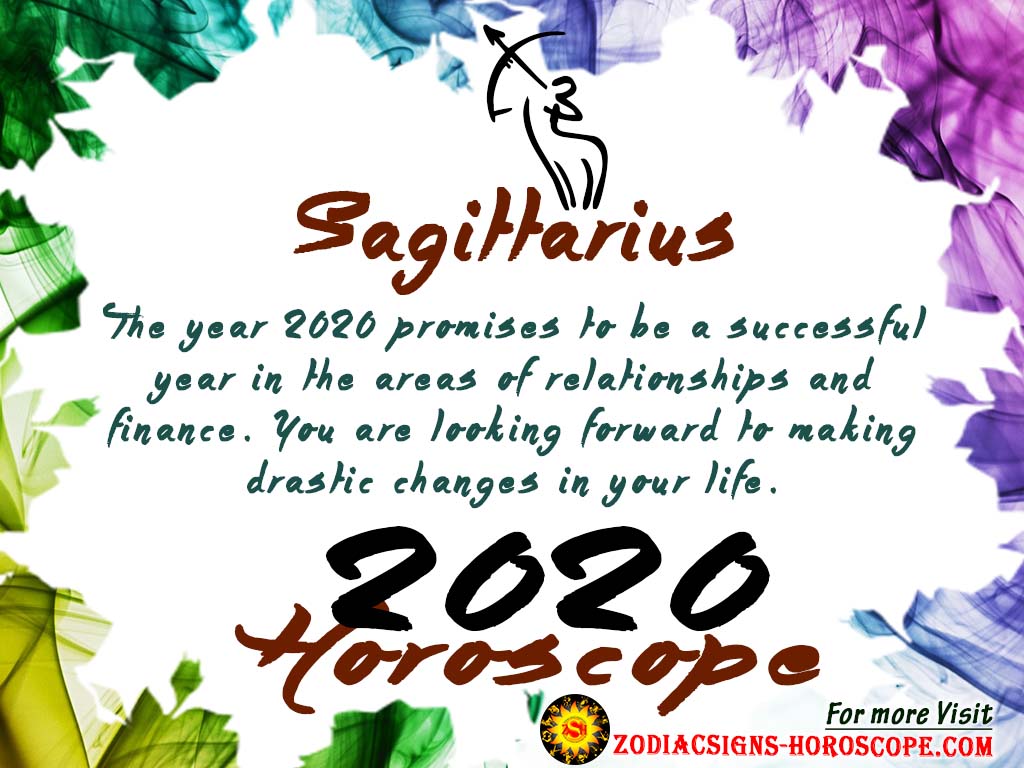 Sagittarius Family Horoscope 2020
The year 2020 forecasts for the Sagittarius family indicate a bright and cheerful period. You have the complete support of your family members in whatever you do. Hence, you should forget about the past bickering and look afresh while making new decisions. It is also vital that you should not be impulsive and carried away by your feelings.
The family environment will be peaceful but should expect essential transformations. You will come out with fresh ideas and plans to rejuvenate the family atmosphere. Amid all the love and affection, you should try to have the upper hand.
Children will make good progress in their academic areas. You can expect marriages and new arrivals in the family during the year. Overall, Jupiter and Saturn are positive for family prospects.
Sagittarius Career Horoscope 2020
Career forecast for Sagittarius professionals and businessmen predicts the highly auspicious year 2020. The year is promising for businessmen to start new projects. More profits can be made by dealing with overseas partners. You should be cautious if you are beginning partnership businesses. Also, the time is ripe for branching out into new areas of business.
Professionals will be able to achieve success through their diligence. They will be able to attain their career goals and will be rewarded handsomely for their efforts. However, it is crucial to maintaining a harmonious relationship with your peers and management.
Sagittarius Finance Horoscope 2020
Sagittarius persons can expect a continuous flow of money during the year 2020. Both Jupiter and Saturn are aligned positively. Consequently, the fiscal environment will be encouraging and hence you should save some money for future expenses. There will be some complacency on the financial front, and you may try to splurge money on luxuries and unnecessary things.
You should pay off your old loans and think of increasing avenues of income. The year is also lucky, and you may look forward to gifts and inheritances unexpectedly. If you are involved in any legal matters regarding business or property, probably the result will be in your favor.
Sagittarius 2020 Travel Horoscope
Travel predictions for Sagittarius during the second half of the year 2020 suggest foreign travels for Sages. Professionals have a good chance of relocating to a new place.
Sagittarius 2020 Health Horoscope
Health predictions for Sagittarius sun sign point to a year full of cheer and vitality during 2020. Jupiter helps maintain your physical and mental health. However, it does not mean that you spend your energy on unnecessary things, or forget to keep your fitness.
A fitness regime is essential to keep up your physical well being. Diet is of utmost importance, and healthy foods will keep you healthy and active. You can avoid digestion problems altogether. Stress and strain should be reduced by resorting to yoga or other forms of keeping mental peace. Also, focus on maintaining peace at home and in the workplace.
2020 Astrology Forecasts For Sagittarius Birthdays
The year 2020 promises to be a successful year in the areas of relationships and finance. You are looking forward to making drastic changes in your life. To succeed in your plans, it is essential to be more realistic and to proceed slowly and steadily. Do not be in a hurry to succeed! Maybe, it happens when it is destined.
READ ALSO: Horoscope 2021 Yearly Predictions
ALSO READ: Horoscope 2020 Yearly Predictions