Virgo 2020 Horoscope – A Look at the Year Ahead
The Virgo Horoscope 2020 foretells that the actions Virgo persons take during the year will be against their fundamental nature. The Virgins will be reckless in their decisions as against their innate nature of being realistic. As a result, there will be turmoil in relationships that may fall apart. Financial deals may go awry resulting in losses, and you may be at loggerheads with your colleagues and seniors at the workplace.
Read Also: Virgo Horoscope 2021 Yearly Predictions
The Virgo sun sign forecasts are warning you to be extremely careful before you decide on important matters. While you cannot avoid taking decisions, you should think deeply and carefully before you choose and act.
Overall, the year does not promise to be a great year, and you should be ready to face severe obstacles during the year. However, this will force Virgo people to think more and come out with novel solutions to the problems they are likely to face. In the end, the outcome may be fabulous.
Virgo 2020 Love Horoscope

Predictions for the Virgo zodiac on love matters suggest that there will be plenty of opportunities for single persons. They will be able to get into love partnerships if they can build up a good affinity with their prospective lovers. There will be plenty of love and passion between the partners after the first half of 2020. If you are already in a committed relationship, there will be more progress. You should try to remove all the obstacles to your friendship and allow it to progress smoothly.
Married couples will have no hiccups in their relationships during the year. They can try to improve bonding and try to make the relationship more enjoyable. It is time to remove all confusion in marriage with improved communication. The second half of the year is more favorable for marital life.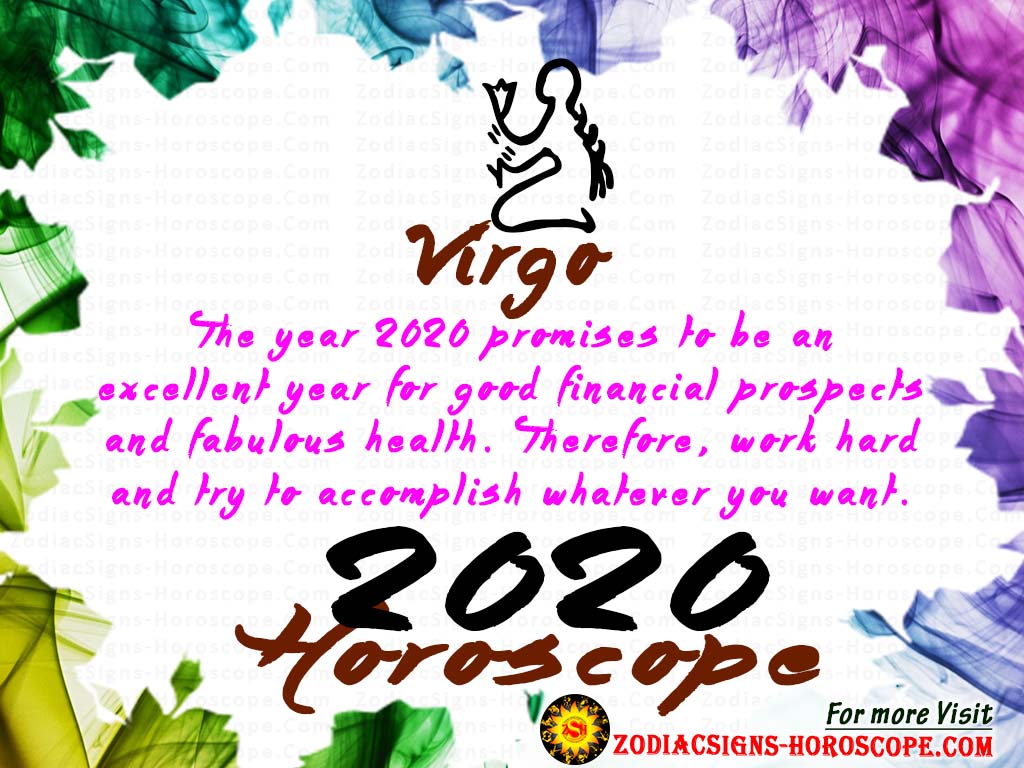 Virgo 2020 Family Horoscope
Positive aspects of Jupiter will make family life more serene and harmonious during the first quarter of the year. The family environment will be smoother. The second half of 2020 will improve the status of the family due to your social activities.
Overall, the family life of the Virgo star sign will reach its zenith this year. This can be achieved by focusing on vital things required to enhance understanding and harmony between members. You should be receptive to their ideas and try to fulfill their needs.
Above all, you should try to remove all the tensions and fears of family life. All this should be accomplished while maintaining your independence and control. Do not allow family members to misuse your kindness at the same time and keep your stature in the family.
Also, married couples can expect the arrival of a new child during the year. The marriage of children can also be scheduled during this period. Children will make excellent progress in their fields after the first quarter.
Virgo Career Horoscope 2020
The career horoscope for Virgo suggests that 2020 will be highly beneficial for professionals. Aspects of Jupiter are promising during the first quarter of the year. Hence, professionals can expect promotions and financial benefits in their jobs. They will be able to succeed due to diligence and competence.
Planetary alignments are also favorable for employment in big and famous companies. You can also expect change over to a more profitable job. The possibility of transfer to another location exists during 2020. You will make extensive plans to progress in your career. As a result, you will achieve your desired goals during the second half of the year. Businessmen will succeed in their projects and make considerable profits.
Virgo Finance Horoscope 2020
Finance predictions for the Virgo star sign foretell an encouraging period in 2020. The money flow will be constant throughout the year. Consequently, you can invest in property or buy a vehicle. After the first quarter, you can invest in new business ventures. They will give handsome profits. If you are dealing with stocks and shares, you will make excellent profits.
Also, the year is ideal for recovering old loans. At the same time, you will have to spend money on unexpected happenings. The family may require money towards their daily expenses. It is always advisable to make a budget and try to save as much money as possible. The surplus can be invested in financial instruments for future expenses.
Virgo Travel Horoscope 2020
Travel astrological predictions for Virgo indicate journeys abroad for business people due to the influence of Saturn. Professionals will be transferred to their place of choice. Travel with family members is also expected during the year.
Virgo Health Horoscope 2020
Health Forecast for Virgins for the year 2020 indicates fantastic fitness and happiness levels. Planetary alignments are favorable for maintaining your vitality and emotional strength. Therefore, you will be able to concentrate on your jobs and business and achieve greater heights.
People prone to health problems should take sufficient rest. Also, maintain your emotional quotient high by relaxation techniques. Right food and fitness routines are essential to maintaining your health levels.
2020 Astrology Forecasts For Virgo Birthdays
The year 2020 promises to be an excellent year for good financial prospects and fabulous health. Therefore, work hard and try to accomplish whatever you want. Planets are on your side in these areas, and only you have to decide your priorities.
READ ALSO: Horoscope 2021 Yearly Predictions
ALSO READ: Horoscope 2020 Yearly Predictions