Aquarius 2020 Horoscope – A Look at the Year Ahead
The Aquarius Horoscope 2020 is prodding you to use your ingenuity to demonstrate your capabilities to succeed. Hence, you should go ahead and achieve whatever you want in life. On the home front, you should try to prove that you can be an adorable parent as well as an ideal spouse. You can use your creativity to excel in your workplace.
Read Also: Aquarius Horoscope 2021 Yearly Predictions
During the beginning of the year, Aquarius persons may face some obstacles to their progress. But they will not be held back and try to move ahead with zeal. The middle of the year does not pose any challenges, while the last few months of the year will be highly encouraging for your success. You should not allow your brash nature to hamper your growth, and you should proceed with caution.
Aquarius Love Horoscope 2020
Love forecast for Aquarius individuals for the year 2020 indicates that you will dominate yourself in love life. This is due to the influence of the Planet Jupiter. You will have plenty of time to spend with your spouse, and you will not hesitate to gift her with luxurious items. As a consequence, the relationship with your partner will be harmonious and blooming.
Single Aquarius people will have many opportunities to find suitable love mates and get into romantic partnerships. They should not go overboard but should nurture the relationships keeping the future in mind. Also, they can seek guidance from friends and relatives if they are inclined to marry their partners.
While fabulous things are happening on the relationship front, you should not allow your emotions to take over. You have to suppress your natural impulsive nature and act with prudence. If some old relationships try to harm your present marital status, you should try to eliminate them.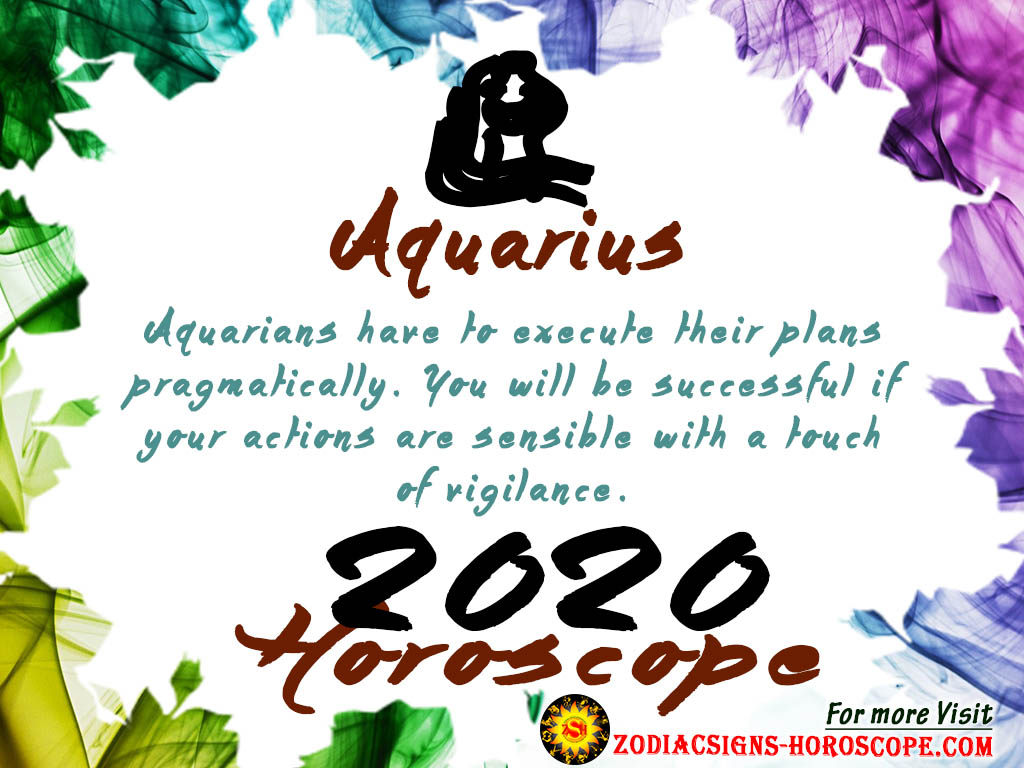 Aquarius Family Horoscope 2020
Predictions for the Aquarius family for the year 2020 foretell that peace and harmony will prevail in the family during the year. At times, you may not be able to devote your full attention due to your professional commitments.
There will be complete emotional bonding between family members during the year, and hence relationships become stronger and closer. While you are offering sincere love to the family, you can also expect the same from the members. All problems should be solved with poise and patience.
There may be health problems related to older members of the family during the last quarter of 2020. Children may also fall sick sometime in the year. They will make good progress in their respective fields if they are industrious. The marriage of children is also likely.
Aquarius Career Horoscope 2020
The 2020 Career horoscope for Aquarius sun sign predicts an average year for professionals and businessmen. Jupiter is conducive to partnership businesses during this period. You should venture into new projects with the guidance of experts in the area. Also, you should try to exclude family members from your ventures.
Professionals will progress well in their current jobs. Though there will be significant transformations in the office environment, you will not be affected. You have the beneficial aspects of Saturn, and you will work out strategies for professional growth for the coming days.
While you are satisfied with your present status, there is no harm in putting in more effort. You can expect a bright future when you can enjoy the results of your diligence. There is a possibility of a transfer or relocation in your present employment.
Aquarius Finance Horoscope 2020
The year 2020 will be reasonably good for the financial growth of the Aquarius star sign. The hard work you have done during the previous years will result in a copious flow of money in the present year. While income is satisfactory, expenses also mount at the same rate. This is due to the influence of Saturn on your fiscal environment. You may have to dig into your past savings to balance your budget.
Businessmen should avoid starting new projects and avoid needless expenditure. All speculative investments should be put on hold for the present. You may have to spend money on travel, which is unavoidable. Irrespective of the inflows of capital, you have to keep a strict tab on the outgo of money. The end of the year 2020 promises to be lucky on the financial front.
Aquarius 2020 Travel Horoscope
Travel for Aquarius zodiac individuals is forecast for the whole year. You will travel abroad after the first quarter because of the positive aspects of Saturn and Jupiter. The year is not suitable for religious tourism.
Aquarius 2020 Health Horoscope
Health predictions for Aquarius persons for the year 2020 indicate more or less good well being. There is a possibility of digestive problems and stress-related diseases due to the influence of Saturn over the zodiac. The situation becomes brighter during the last quarter of the year.
In addition to the negative planetary aspects, your fundamental nature of being emotional may affect your health. It is essential to maintain a mental balance if you want to remain healthy. You should control your negative thoughts and feelings so that they should not disturb your emotional health. Also, you should desist from eating junk food and avoid excessive revelry.
However, there is a way to maintain your health within acceptable standards. You should be physically active by playing sports or following a fitness regime. You can improve your mental health by practicing yoga or similar relaxation procedures.
2020 Astrology Forecasts For Aquarius Birthdays
Aquarius people have to execute their plans pragmatically. You will be successful if your actions are sensible with a touch of vigilance. We look forward to the bright and successful year 2020 with plenty of action and excitement.
READ ALSO: Horoscope 2021 Yearly Predictions
ALSO READ: Horoscope 2020 Yearly Predictions