February 13 Birthday Personality, Love, Compatibility, Health, and Career Horoscope
Your relationship with the February 13 zodiac birthday horoscope tells more about who you will become in the future and what characteristics you possess. Your horoscope prediction will ensure that you are equipped with the necessary knowledge to take care of your personality.
February 13 Birthday Personality Traits
As a person born on February 13, you are a very open-minded person who is filled with a lot of energy and always bursting with ideas. You are outspoken, always trying to set a pace that others can follow.
Strengths
You love displaying your skills to the delight of people as you love impressing others. The 13th February personality has a great innovative mind with a mix of innocence and imagination. You have a unique way of relating to people and solving problems. You're very persistent with things and compassionate with people. You hate dishonesty with passion and often try everything possible to be friendly with people.
You're neutral with your thought and possess an intellectual sagacity. You lack the fright of speaking in public for and against things and ideas which are eccentric. It is the case that you are very reliable, dependable, and creative with your ways.
The 13th February numerology is 4, which shows someone with a lot of honesty, discipline, and logic. You are someone who is self-disciplined and do things with a lot of tolerance. You are also very adaptable, hardworking, and, most times, imaginative with life. Your approach to life is unconventional and realistic.
Weaknesses
The February 13 birthday personality is an independent person who hates to conform to what is done in society. You believe in doing things your way and style without fear of backlash. Generosity and affection are what you believe in.
February 13 Zodiac Personality: Positive Traits
The February 13 horoscope sign predicts that you have a series of positive characteristics of which charming nature and attractiveness are a part. You are magnetic to people as a result of your attractiveness. Many people find it easier to relate to you due to your great communication skills.
Understanding & Intelligent
The February 13th birthday characteristic of a good understanding of people always draws people closer to you for help, advice, and mediation. You are also known to have the right approach to solving any tough issues due to your intelligence. You are mentally active and unconventional, the features that make you have a series of new approaches to things. Hence you have great organizational skills, which make you know how to prioritize your needs. Also, you do not spend extravagantly like some other people as you are always saving for the future.
Friendly & Versatile
Among the February 13 personality traits, your versatility and friendliness always draw you to the land of success as a business is done with warmth nature. When it comes to a discussion with you, you have a lot of educating topics to venture into due to your curiosity. You are always known to instill the spirit of resilience in people. It is also the case that you love helping people as a result of your altruistic nature.
February 13th Zodiac Personality: Negative Traits
What often serves as a challenge to you is your selfishness and reckless way of life. You are always bossy and want people to conform to whatever you say. Your perfectionist February 13th birthday trait often makes you lose a friend as you often enforce some unrealistic standards.
Creative & Rigid
It is true that you are a very creative person, but your creativity often flops. You sometimes create ideas that are not only unrealistic but impracticable. Your rigidity of chasing your heart instead of your head in any issue often leads you to nowhere in business. Also, you always need to ensure that you always do things that will not hurt your personality or others.
Elusive
You need to control your elusive nature and reduce erraticism. It is the case that you often go physical and aggressive when you think that you are not in position. Always keep your calm and be patient with people.
February 13 Zodiac: Love, Compatibility, and Relationships
Marriage is essential for human beings, especially adults. Here is where you find your life companion. Most times, you might consider marriage to be a restriction of your freedom and choose not to engage in any relationship that might lead to marriage. This often makes a person born today, February 13, liable to have unstable relationships.
As Lovers
You have a good methodological way of speaking that will make everything you say sink into your listener without any protest by them. If it is the case that you want to marry, you should run away from any unconventional way of meeting your love as you are liable to be cheated or fooled. Always consider conforming with the traditional way of dating and meeting one's love. You are most likely to devote almost, if not all, of your things to your loved one and create a family that is happy and good.
Sexuality
The February 13th sexual compatibility goes well with a Gemini or an Aquarius who is born on any of the following days: 1st, 8th, 10th, 17th, 19th, 26th, and 28th, and least suited for a Scorpio.
Career Horoscope for February 13 Born
According to the 13th February astrology predictions, your career to you might be a little bit difficult as you possess many skills that can make you work in different fields. You often engage yourself in numerous jobs because of this. It is also the case that you often look at the proportionate of a job and its pay to determine whether you will venture into it. It is this case that you often consider a job that will give you a chance to work independently without any law, time constraint, or anything.
You want to showcase your talent and impress people. If it is the case that you are a leader, you often ensure that you inculcate into your employee or followers the spirit of hard work and often lend them a hand of help in the work they do. As a person born on 13th February, you are a perfectionist and an imaginative person who often dishes out ideas and expect that people follow such ideas to its standard even if it is unrealistic.
You believe that your ideas are always realistic and tend not to agree when an individual gives you a way on how to improve your ideas to your standard. You often save money to buy things that will serve as assets to you in the future. You're always conscious of buying liabilities.
Health Horoscope for February 13th Birthday
February 13 facts show that health is important for everyone in life. Your health will tell everything about your life ranging from behavior to business performance, among others. You always need to be conscious of your health.
You can know the right thing and use such an ability to ensure that you do the right thing at the right time. You're someone who hates using traditional medicine and prefer a holistic or any alternative form of medicine to the traditional form.
You're always likely to be faced with stress problems or dietary problems as a result of your love for food and too much work. You often have issues with your backbone as a result of too many works and have a problem with your sleep. Exercise, among other things, is the best treatment for you to improve your mood and reduce any form of stress.
February 13 Zodiac Sign and Meaning
What does it mean to be born on the 13th of February?
The February 13 birthday is one of the numerous birthdays grouped under the Zodiac symbol of Aquarius. This set of people are known to be very affectionate and always eager to help people around them even at their own expense.
February 13 Zodiac: Astrology Element and Its Meaning
The February 13 element is air. You possess a static connection that does not shake at all with air. This makes it easier for you to always fall into the different characteristics that the air possesses – the good and the bad ones.
Dreams & Goals
Fantastically, you love doing things independently without taking cognizance of any piece of advice that is given by anyone. You are very inflexible and flexible at the same time; you often exhibit your different nature on anything that comes to you. Your contradictory nature makes it difficult for people to rely on you as you are very unpredictable as to what you will say.
The February 13 astrology depicts that you are very calm at a point and stubborn. Many people often pray to meet your gentle side because your stubborn side is very impulsive and aggressive. Most times, the air overshadows your compassionate heart by making you aloof and very detached.
Born on February 13: Planetary Rulers
The 13th February planetary influence shows that you are influenced by Uranus and Venus being your Decan's ruler. The astrological ruler for your particular day is Uranus; thus, you have a double portion of Uranus' powers.
Hence Uranus bestows the intense feelings of compassion that you possess. Your dominance, freedom, and love for independence are not far-fetched from your planetary influence. It is also the case that you are more intelligent and possess excellent communication skills. You are brilliant and compassionate as a result of these influences.
February 13 Zodiac: Lucky Numbers, Days, Colors, Animals, Tarot Card, and More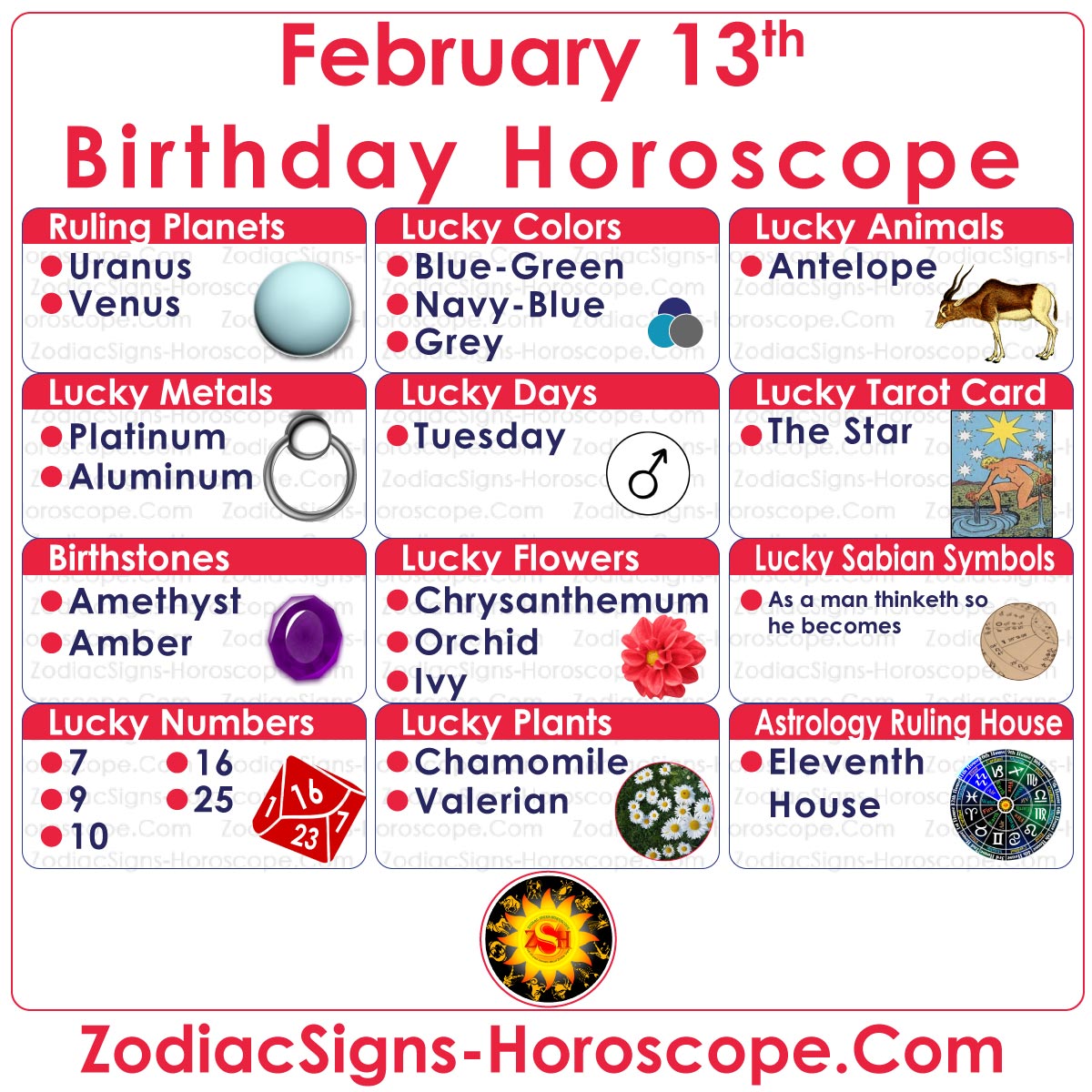 February 13 Lucky Metals
Platinum and Aluminum are lucky metals for the February 13th birthday personality.
February 13 Zodiac Birthstones
The birthstone is Amber or Amethyst gems.
February 13th Born Lucky Numbers
The lucky numbers are 7, 9, 10, 16, and 25.
February 13 Birthday Lucky Colors
The lucky colors are Blue-green, Grey, and Navy blue.
February 13th Zodiac Lucky Days
The lucky day is Tuesday.
February 13 Lucky Flowers
The lucky flowers can be an Ivy, Orchid, or Chrysanthemum.
February 13 Lucky Plants
The February 13 lucky plants are Valerian and Chamomile.
February 13 Lucky Animals
The lucky animal is Antelope.
February 13 Zodiac Lucky Tarot Card
The lucky tarot card is The Star.
February 13th Lucky Sabian Symbol
The lucky Sabian symbol is "As a man thinketh so he becomes."
February 13 Zodiac Ruling House
The astrological house that rules over this day is the eleventh house.
February 13th Birthday Facts
February 13 is the thirteenth day of the second month.
It is the 44th day of the year for the Gregorian calendar users.
It is the seventy-fifth day of winters.
The United Nations observes this day as World Radio Day.
February 13 Famous Birthdays
Among famous people, Peter Gabriel, Jerry Springer, and Mena Suvari were born today, February 13.
SUMMARY: February 13 Zodiac
The February 13 birthday personality goal to be successful is often truncated by your eccentrics and your defiant nature. Also, your unpredictability often causes a setback in your travail for success. You need to learn how to use your dark spot as your greatest weapon. You also need to change these ways of life if you can't use them as your greatest weapons for the future.